We always seek natural ways to keep us fit. According to health experts, Giloy for boosting immunity is one of the best ways to keep healthy and hearty. As per Ayurveda, Giloy is known to be beneficial in many health conditions. Ayurveda names Giloy as one of the three Amrit plants known. Amrit refers to 'the root of immortality'. Giloy is also popularly known as Amritvalli. Giloy is a good source of antioxidants and helps fight cold, urinary tract infection, fever, cough, and liver diseases. Giloy also acts as a hypoglycaemic agent and helps balance the blood sugar level. 
Biologically, Giloy is termed Tinospora Cordifolia, but commonly it is known as Giloy, gurjo, guduchi, and Heart-leaved moonseed. It has been in use for centuries to traditionally treat diseases. Giloy for boosting immunity is being incorporated in daily lives by Indians after the corona pandemic havoc.
The extract of Giloy has been used for medicinal and healing properties for ages in Ayurveda. The extract of Giloy is known to be beneficial in a disrupted digestive system, sugar levels, arthritis, and chronic fever. Giloy can be easily consumed and is available in many forms like pills, concentrated juice, powder, etc.
You can also purchase branches from the market and prepare kadha at home. While preparing kadha you can also add other beneficial herbs and spices like tulsi, turmeric, and neem. It is not known to pose any side effects on the human body so far and is completely healthy for regular use.
How to Identify Giloy Plant?
Seeking answer to the question, how to identify Giloy plant? Listed below are some features of the Giloy plant. You can observe these features and recognize a Giloy plant with much ease. Let us take a look:
Giloy is a large, spreading plant with many long branches. These are deciduous plants with climber shrubs. 
Giloy plant leaves feature up to 6 inches long petiole that is precisely pulvinated and circular. The petioles at the base are partially twisted as compared to the ones at the apex. The leaves of the plant are simple and alternately arranged. 
Giloy plant is also known as Heart-leaved moonseed because it bears reddish colored fruits and heart-shaped leaves. The leaves are 4-8 inches in length with a width of 3-6 inches. To recognize the color of the fruits and the shape of the leaves is one of the easiest ways of identifying the plant. Fruits form clusters in a set of 1 or 3.
The Giloy plant comes with six sepals. Three sepals are clubbed together in two series, and the inner sepals are larger than the outer ones. 
These plants feature six petals that are smaller in size than sepals. 
Giloy plant has unisexual flowers that appear when the plant is leafless with a yellowish-green tinge. Female flowers are mostly isolated, while the male flowers are present in clusters.
Relevant: That Is Why You Should Not Forget The Use Of Vitamin C
How to Use Giloy Leaves?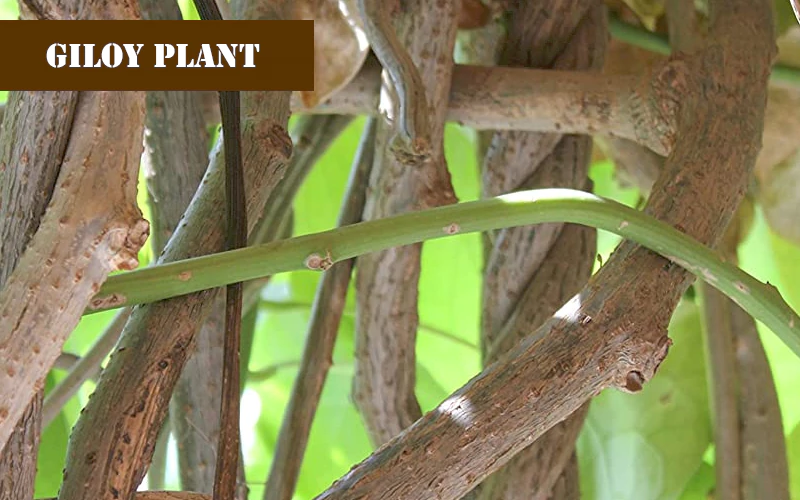 Giloy leaves are highly beneficial for our body, and the leaves can be used in many ways. Listed below are some answers to questions like giloy ko kaise use kare? Or how to use giloy leaves? Let us have a quick look:
You can put giloy to use in many ways. One of the many ways is using the leaves while making an immunity booster kadha. Making a kadha with giloy leaves along with other spices is very easy. It can be consumed at any time of the day but to consume it early in the morning on an empty stomach is considered best. The steps to prepare this immunity booster kadha are as follows:-
Take some Giloy leaves, tulsi leaves, ginger, and cloves.
Finely chop giloy leaves, ginger, and tulsi leaves.
Now take a boiling utensil, add a glass of water to it, and put it to boil.
Add all the ingredients to it and let the mixture boil for 7 to 8 minutes.
Turn off heat and let the result cool.
Strain the liquid and consume it empty stomach for best results.
NOTE:- To finely chop giloy leaves and boil them in water is the best way to use giloy leaves.
Is Giloy Good for Immunity?
Absolutely! Giloy is one of the best natural immunity boosters that one can come across. During the corona pandemic times, Giloy is widely used owing to its health benefits. ..Giloy for boosting immunity is used in India in the form of juice and kadha. People either purchase it from the market or prepare it at home in a few simple steps. Giloy juice is available in the market in a concentrated form, and one can dilute it before consumption by adding water. At home, you can prepare a healthy drink or kadha in just a few minutes.
How to Make Giloy Kadha?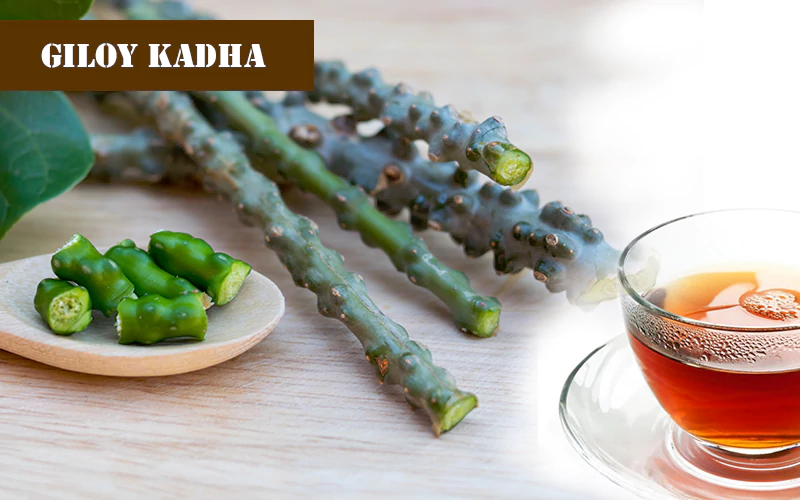 Ingredients required:-Giloy branches (washed, peeled, and finely chopped) and water.
Process:- Giloy kadha can be prepared in various ways. Most of the ways are simple and can be prepared in just a few minutes. We will help you here with a simple Giloy kadha recipe that would work wonders to boost immunity. Giloy kadha can be consumed at any hour of the day but to have it early in the morning on an empty stomach is highly beneficial.
Process to make GiloyKadha:
Peel Giloy and finely chop it
Boil water in a pan and add the finely chopped Giloy in the water
Reduce the water to about 3/4th and urn off the flame.
Strain the water and let it cool
Consume it lukewarm or at room temperature.
Giloy is consumed all alone as well as with other herbs and spices. Listed below are recipes with other herbs.
1. Giloy and neem kadha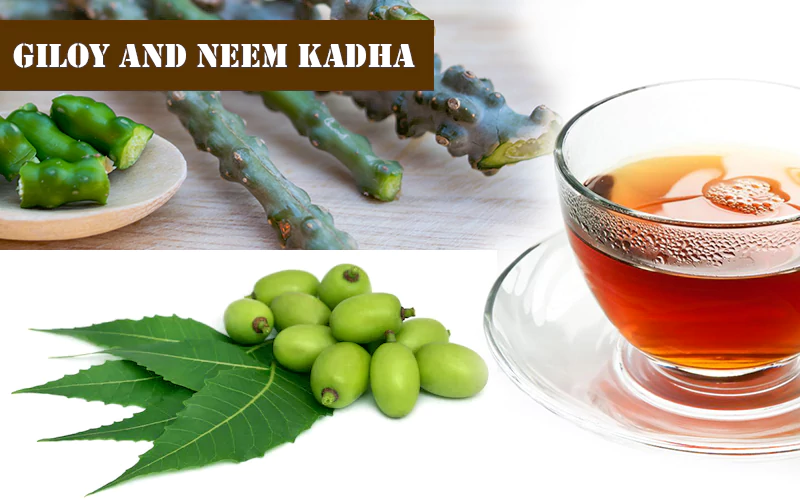 Ingredients required:- an inch ginger piece, 8 to 9 basil leaves, 2 small Giloy branches, 7 to 8 neem leaves, 5 to 6 cloves, and 6 small pepercorns.
Process:-
Take 2 glasses of water and add all the ingredients such as Tulsi and Giloy to it. Make sure to wash the ingredients with water and peel giloy before adding them to water. Blend everything together. 
Next, heat a pan on medium flame; add the blended paste and 2 more glasses of water to the pan.
Let the mixture heat and reduce it to half the amount. 
Strain the mixture and serve. 
Benefits:-Giloy has anti-inflammatory properties and neem further adds on benefits to this property. This neem and giloy kadha help in relieving ailments like diabetes, arthritis, and seasonal flu.
2. Giloy and turmeric kadha
Ingredients required:- 2 small branches of Giloy, an inch of raw turmeric, 7 to 8 tulsi leaves, 2 inches of ginger, about 2 cups of water.
Process:- Add all the ingredients to a pan and heat it on medium flame until it is reduced to half. Once done, turn off the flame, and strain the mixture.
Benefits:- This Giloy and turmeric kadha is rich in antioxidants, gingerol, and curcumin. It helps to enhance immunity, as well as, fight against harmful viruses. When consumed with added jaggery, the drink helps relieve constipation.
Benefits of Giloy
According to clinical nutritionists and health experts, Giloy is packed with benefits. It has been used for years to curing ailments like dengue, swine flu, and malaria. Giloy is known to boost immunity as it is rich in antioxidants. Giloy is quite beneficial for people who suffer from constipation. It improves digestion and relieves it from ailments like constipation. Regularly consuming giloy helps keep blood sugar levels in check. Giloy is often taken in combination with beneficial herbs like tulsi. Giloy features anti-inflammatory properties that make it an incredible herb for good immunity and a healthy body.
Are there any Giloy Side Effects?
Giloy is not known to have any side effects. However, if someone on diabetic medication consumes Giloy, it may result in low blood sugar levels.
Also, Giloy boosts the immune system that might result in affecting the symptoms of conditions like an autoimmune disease. An example is rheumatoid arthritis.
Is it Safe to Consume Giloy on an Empty Stomach?
Yes! Giloy for immunity can be consumed on an empty stomach early in the morning. In fact, consuming it on an empty stomach is considered to be highly beneficial. If consumed early morning on an empty stomach, Giloy is said to manage stress, liver disorders, and fever. 
EmunCare is one of the Best Ayuvedic Supplement to Boost Immunity as it has the